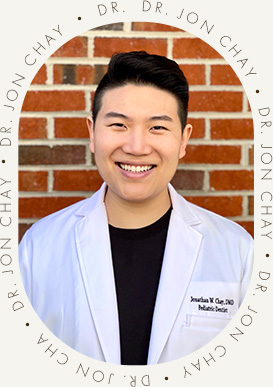 Board-certified pediatric dentist Dr. Jon Chay is a Greenville native. He completed his undergraduate degree in biology at the University of South Carolina-Columbia. He then attended dental school at the Medical University of South Carolina.
After obtaining his doctorate degree, Dr. Chay moved across the country to Los Angeles to complete specialty training in a pediatric dental residency program at the University of Southern California. There, he earned his certificate in Pediatric Dentistry. Although he enjoyed his time in Southern California, being near loved ones in the state filled with "smiling faces and beautiful places" was hard to resist.
Now, as a Greenville pediatric dentist and expert in the unique oral health needs of infants, children and teens, Dr. Chay is all about putting his patients at ease. By helping kids feel comfortable and engaged during dental visits, they're able to receive the care they need in order to achieve outstanding oral health.
In his spare time, Dr. Chay enjoys traveling with his fiance, Jihae, and playing golf. He's also a huge sushi enthusiast.