Our gentle, yet thorough dental cleanings will get your child's smile sparkling clean.

Goodbye, Plaque. Hello, Healthy Smile.
At Oak Tree Pediatric Dentistry, our kids' dentists are all about prevention, and regular professional dental cleanings are an important part of your child's preventative care. During a cleaning, we use special instruments to remove plaque and tartar (hardened plaque) that can't be eliminated with a regular toothbrush and floss. This keeps your child's teeth and gums healthy and helps them earn a spot in the cavity-free club. To learn more about our dental cleanings for kids in Greenville, read on or schedule a visit with us by calling (864) 232-3333.
Benefits of


Dental Cleanings
We can remove plaque and tartar buildup that you can't get rid of at home. This reduces the risk of cavities and gum disease and improves your little one's oral health.
During a cleaning, we're able to get a closer view of your child's teeth and gums. We can identify issues early on and see how well your child is doing with their oral hygiene routine.
These visits are an excellent opportunity for kids and teens to learn how to properly brush and floss or for parents to learn how to take care of their infant or toddler's smile.
What to Expect During Your Child's Dental Cleaning
We don't just jump right into a kid's dental cleaning. Instead, we'll show your child the instruments we'll be using, demonstrate how they work and explain exactly what we'll be doing at each step of the cleaning process. This helps reduce dental anxiety in kids by eliminating a fear of the unknown and making them an active participant in the visit.
Once your child is ready, we'll use a special tool to gently remove plaque and tartar and then we'll carefully floss their teeth. Next, we'll brush and polish their teeth, so their enamel is clean, shiny and smooth. Depending on your child's needs, we may wrap things up with a fluoride treatment.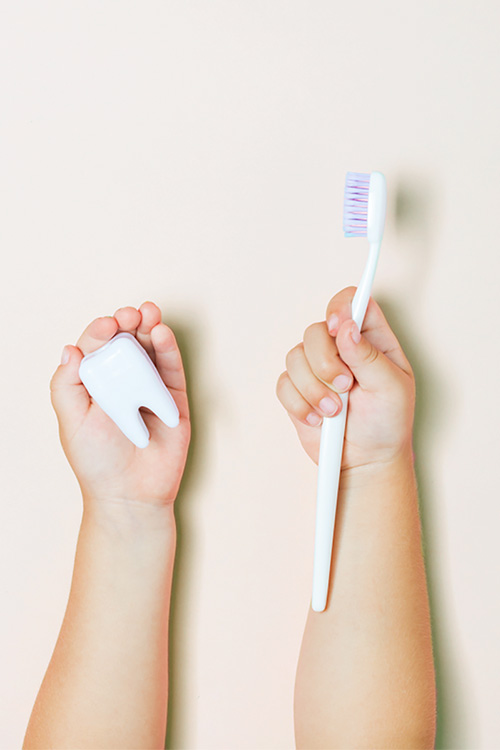 6 Months
Kids and teens should have a dental cleaning once every six months, or as often as your pediatric dentist recommends.
40%
When kids don't floss their teeth, they're not removing plaque from nearly 40% of their tooth surfaces.
2x
Start brushing your infant's teeth (or tooth) twice a day as soon as their first tooth erupts.