With a tooth-colored filling, it's like your child's cavity never happened.

If a cavity takes up residence in your child or teenager's mouth, Dr. Jon Chay and Dr. Martha Hendrix can gently remove decay and restore the tooth with a tooth-colored filling. Made of a composite resin material, these fillings are strong, durable and seamlessly blend in with your child's smile. The best part? Thanks to our techniques and technology, the experience will be comfortable, quick and squirm-free. If you suspect your child has a cavity, connect with a Greenville pediatric dentist today online or by calling us at (864) 232-3333!
Benefits of


Tooth-Colored Fillings
We match the filling to the color of your child's tooth so that it's undetectable.
The composite resin material is biocompatible, safe, and metal- and mercury-free.
Tooth-colored, composite fillings bond directly to the enamel, restoring the majority of the tooth's strength.
What Happens When My Child Gets a Filling?
When you bring your child to Oak Tree Pediatric Dentistry in Greenville, we'll give you both a warm welcome. Before we get started on the procedure, the dentist will show your child the instruments they'll be using and explain what happens every step of the way, so they feel comfortable and relaxed.
First, the dentist will carefully numb the area, ensuring your kiddo doesn't feel a thing during the procedure. Then, they'll remove all of the decay before cleaning and priming the space left behind. Dr. Chay or Dr. Hendrix will fill the space with composite resin material and use a curing light to harden it. They'll make any adjustments for a perfect fit and, finally, shape and polish the filling, so it looks and feels completely natural.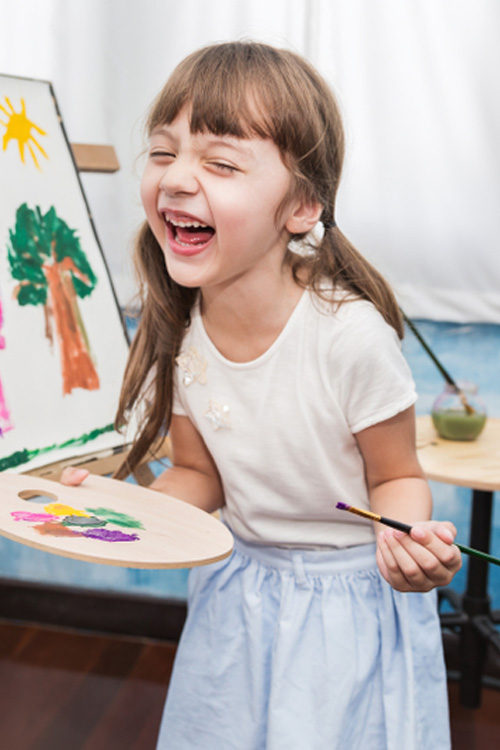 4x
Tooth decay is four times more common in teens than asthma.
95%
Tooth-colored fillings are up to 95% as strong as natural enamel.
1 in 5
One in five kids will have had tooth decay by kindergarten.