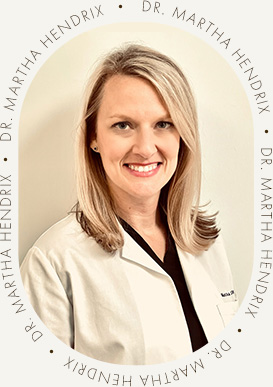 Dr. Martha Clark Hendrix was born in Greenville, SC. She earned her Bachelor of Science degree in Biology and graduated cum laude from Wofford College in 2004. After graduating, she went to the Medical University of South Carolina and received her Doctor of Dental Medicine degree in 2009.
Dr. Hendrix quickly learned that she enjoyed helping children develop healthy smiles and has been practicing for 12 years as a dentist for kids in the Upstate. At Oak Tree Pediatric Dentistry in Greenville, Dr. Hendrix takes the time to get to know each child personally, communicating with parents and children to create a lifetime of happy teeth.
In her personal life, Dr. Hendrix is married to Emory Guy Hendrix, Jr., a graduate of Clemson University and financial advisor with Raymond James in Greenville. They have a son, Emory "Guy" Hendrix III, who was born in 2014, and a daughter, Mary Alice Hendrix, who was born in 2017.
Dr. Martha is the oldest of four girls, one of whom is her twin. She enjoys singing, dancing, baking, traveling and spending time with her family. She is also a member at Earle Street Baptist Church, where she sings in the choir and is a member of the Round Table Sunday School class.